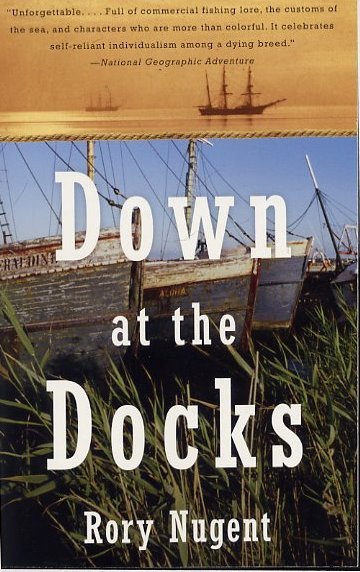 Short List, best non-fiction book of the year: Boston Globe, SF Chronicle, Providence Journal, Star Tribune, San Diego Union, Washington Times, WaPo, Arizona Register, Wall Street Journal, AP, Seattle Times, Oregonian, Gatehouse News, and the list goes on and on.
A SAMPLE OF REVIEWS


Nugent's acute ear and unique voice--now irreverent, now elegiac, always surprising--bring to unruly life not only this tough town but also a vanishing America....This is an important book...The Boston Globe
Nugent strings together his subjects boasts, banter, and laments into an engagingly anecdotal social history, fleshed out by strokes of fine description...The New Yorker
A bare-knuckled, take no prisoner account..Filled with some of the finest stories you will ever read in print...DOWN AT THE DOCKS is the song Jimmy Buffett wishes he could write..Minneapolis Star Tribune
A movingly profane lament...Mr. Nugent speaks with just and salty outrage on behalf of rough men 'On the wrong side of tomorrow'...Wall Street Journal
Gritty..Nugent has a nose for sleaze, and he evokes it with panache...His enthusiasm for the disreputable is limitless...(His) style is crisp and muscular....San Francisco Chronicle
Incredibly good...Salty and exotic. Nugent does something very useful in this broad-shouldered book....THE PRESS REGISTER
Unflinching...Dark and richly comic. Nugent is remorseless and brilliant and he uses New Bedford as a briny stage to frame post-industrial America with all its waste, excess, and corruption...NEW BEDFORD STANDARD TIMES
A master craftsman of narrative non-fiction...With a pitch-perfect ear for linguistic nuance... DOWN AT THE DOCKS is a funeral dirge for a way of life washed out to sea...What broke our fathers? Who were they? Were they losers or heroes? How did this day come to pass? Nugent offers answers. There's no better reason to write cultural history... Donna Gaines, First of the Month Magazine
In his breezy, gritty book, Nugent takes us on a tour of New Bedford, Mass., a Mafia-infested wilderness of drugs, crime, and joblessness--a far different city from the town Herman Melville portrayed in "MOBY DICK"....Editors, San Francisco Chronicle: Top 50 best nonfiction books of 2009.
Extraordinary writing about the sea and its traditions...AP, Editors pick for a list of the 25 best non-fiction books of 2009.
Nugent prowls New Bedford's waterfront, assembles a cast of hard-drinking, drugged-up fishermen, and writes a terrific history of this colorful city...Providence Journal, Best Reads for 2009, Top Ten in Non-Fiction.
In the top Fifty, Best Books of the Year....Eds. Boston Globe...
A passionately authentic fish story, as well as a modern answer to MOBY DICK, Nugent's language, rushes towards the reader filled with dockside lore, and like the Ancient Mariner, he holds the reader by his account: The chase is over, the bounty of the seas gutted and stripped to the bone. DOWN AT THE DOCKS has the attributes of a classic----Rudy Wurlitzer, author of DROP EDGE OF YONDER and NOG and QUAKE and FLATS.
A hyper-focused portrait of men caught in the economic dregs...Nugent channels their voices--raspy, salty, desperate--into a fascinating jeremiad, the last will, and testament of an iconic way of life. This is what a ghost town looks like just before the ghosts move in...Men's Journal
Nugent has a knack for getting people to talk, and their sometimes harrowing, sometimes hilarious stories of late-night marijuana drops, work injuries and weeklong benders capture a world of entrepreneurial independence and fearsome risk.....New York Times
There aren't so many of those closed universes left in America, places where people share skill, custom, vocabulary, ethos, morality. Rory Nugent's New Bedford is one of those holdouts, and it is described here with compassion, skill and humor. A classic American book---Bill McKibben, author of DEEP ECONOMY

No writer that I can think of unless it's Sebastion Junger, might have written this obsessed, intrepid, and intelligent book. Nugent has brought to life a world within a world--Alec Wilkenson, author of THE HAPPIEST MAN IN THE WORLD.
Nugent's empathetic narrative honors the independent fishing community but in the form of a eulogy...Essential reading for anyone in the region. Mariner, adventurer, and author, Nugent lived for years in the once-booming, now busting port city of New Bedford, Massachusetts, and chronicles its denizens in this generous, elegiac book. Looking back to the 19th Century whaling trade and even to the pioneering settlers of coastal Massachusetts, and, unblinkingly, to the economically fragile present, Nugent considers the entire history of fishing in New Bedford...He introduces a community bound by tradition, superstition, recalcitrance, and a profound more visceral than affectionate love for the sea. Always at the mercy of wind and waves, contemporary fishermen are now endangered by corporatization, the war on drugs, environmental regulations, and the vagaries of worldwide markets. The symbolism in the final chapter, the deliberate sinking of a dilapidated wooden fishing vessel, is unmistakable---LIBRARY JOURNAL

Rory Nugent's great THE SEARCH FOR THE PINK-HEADED DUCK took him to India; DRUMS ALONG THE CONGO took him to Africa. Now DOWN AT THE DOCKS takes Nugent to New Bedford, where he lived for 17 years and which he vividly captures by allowing fishermen and other dock denizens to tell their own stories. It is, however, Nugent's acute ear and unique voice--now irreverent, now elegiac, always surprising--that bring to unruly life not only this town but a vanishing America--Anna Mundow, BOSTON GLOBE
Nugent, a rambunctious travel writer, lived in New Bedford, Massachusetts, for 17 years, collecting the edgy stories which fuel this transfixing portrait of a vanishing world. Writing with the brio, precision and wry wit of the king of narrative non-fiction, Joseph Mitchell, and sharing Mitchell's empathy for those who live outside the cage of rules, law, and common sense, Nugent anchors the tempestuous "riches to rags" history of New Bedford to a motley crew of waterfront denizens, capturing the currents of their voices and the storminess of their makeshift lives as fisheries are wiped out...Nugent's electrifying rogue's gallery reveals the deep truth about humankind's reliance on and abuse of nature--BOOKLIST
Lively. fascinating. And challenging. Rory Nugent has found the last of New Bedford's indomitable fishermen, and the past comes roaring back to life just in time to make us think more deeply about the future of the seas--Tony Hiss, author of THE EXPERIENCE OF PLACE
An elegiac portrait of an iconic place fallen on hard times and unlikely to rise again...Nugent looks deep into the past of the New Bedford men, and sometimes women, who have taken to the waves--some the legal way, some not...An incisive portrait that takes both place and people seriously and that does them honor.--KIRKUS REVIEWS
"Nowhere in America, wrote Herman Melville in MOBY DICK, will you find more patrician-like houses, parks, and gardens, more opulent than in New Bedford." Not any more. DOWN AT THE DOCKS is about the lives of New Bedford fishermen, but it is much more; it is a hard, unvarnished look at New Bedford today, where the relic commercial fishing industry is only one of the components, and where the old ways run smack into modern problems like drug-smuggling, illegal immigration, organized crime, disorganized crime, and suffocating government regulations. Melville would be shocked to see what has become of what he called "The dearest town to live in, in all of New England." Rory Nugent tells the fascinating story of New Bedford the way it really is, not the way wistful romantics would like to remember it---Richard Ellis, author of MEN AND WHALES and TUNA: A LOVE STORY.
Nugent's homage to his adoptive home port, a moving and desperate book, is at once a chronicle, ramble, reminiscence, expose, epitaph and screed. DOWN AT THE DOCKS could only have been written by a lover who lived there, a muscled stylist and visionary of a triumphant sadness...Nugent animates a declining city that is bipolar, its fortunes parabolic...His screaming eulogy gets its power from its passion, which recognizes the weirdness of this dying city, a place of deep loyalties and multiple marriages, where outlaws outnumber in-laws, and where "an experienced crew can move upwards of 30 tons of pot on a single moonless night."
Mr. Nugent describes the hurricanes that have devasted the port so vividly that this reader ducked for shelter, and he revels in the ribaldry and oddities of New Bedford history--Philip Kopper, WASHINGTON TIMES



One of our most intrepid and intriguing travel writers, Rory Nugent, brings to life an incredibly exotic subculture right in our backyard:the New Bedford waterfront, capturing its pungent, Portuguese-inflected lingo for the first time, and immersing himself so completely in it that he ends writing the book in the boozy voice of its denizens, and becomes, it appears, one of its memorable characters himself.
--Alex Shoumatoff, author of LEGENDS OF THE AMERICAN DESERT

With wry humor and empathy (it helps that he is a mariner himself), Nugent deftly tells the tale of a once bustling and vibrant community--the pre-eminent spot for fishing and whaling--and its decline as its fiercely independent inhabitants grapple for relevance in an increasingly globalized world. The book at first reads like a series of character sketches, but the book reveals something larger as Nugent seamlessly weaves in the history of the town, its industry, drug-smuggling trade and flirtations with radical politics.
--PUBLISHER'S WEEKLY

DOWN AT THE DOCKS is an extraordinary document, a witnessing of something essential from the inside. It made me think of James Agee, Steinbeck, Joseph Mitchell, Oscar Lewis (for its living anthropology), and also a book called RANDOM FAMILY about the South Bronx. All of tehse came to mind, that sharpness and detail, the hardness of the world without false adornment and in the language of the place rather than in the language of "literature," without self-consciousness. It's a book that will be remembered long after the docks disappear, a book people will refer to.
--Michael Greenberg, TLS Columnist and author of HURRY DOWN SUNSHINE

A latter-day Ishmael, the adventurer and travel writer, Rory Nugent, walks these same streets (as Melville described in MOBY DICK) but finds a far different New Bedford. In a breezy, gritty book, DOWN AT THE DOCKS, he takes us on a tour of a mafia-infested wilderness where drugs, crime and joblessness form the backdrop for a fishing fleet he calls the only vital industry left in town, yet an industry suffocating under the weight of government regulations. Nugent's book comes at the near end of a continum of memoirs of places as varied as the Paris of Hemingway's A MOVABLE FEAST and more recently, the brilliantly realized titular city of Orhan Pamuk's ISTANBUL. Writing in this tradition, Nugent offers us a New Bedford of seedy docks and shuttered textile mills. We tread in his wake past fish houses, flophouses, whorehouses, crack houses and powder houses...Nugent has a nose for sleaze, and he evokes it with panache. Nugent's enthusiasm for the disreputable is limitless...His style is crisp and muscular.
Alan Littel, THE SAN FRANCISCO CHRONICLE

DOWN AT THE DOCKS nails the rough-and-tumble life on the New Bedford waterfront...Writing with an eye for trouble like Raymond Chandler, Nugent limns a city visitor's won't see, and probably can't...What brings this terrific mix of oddballs, goofballs, and tough guys together is Nugent's great eye for detail and his uncanny way with description...In a blurb at the end of the book we read that Nugent is an accomplished mariner. If he's as good a sailor as he is a writer, he's very good indeed.
Tony Lewis, THE PROVIDENCE JOURNAL

Nugent has captured America's greatest fishing fleet by compiling a half-dozen chapters with some of the finest stories you will ever read in print. DOWN AT THE DOCKS is the song Jimmy Buffet wishes he could write.
--Stephan Lyons, THE STAR-TRIBUNE (Twin Cities)

Nugent, a travel writer, accomplished mariner and foreign correspondent, serves up an unvarnished view of New Bedford, Massachusetts, a city that was once a world center for shipping, whaling and textile mills. As its relic fishing industry struggles to survive, the community discovers that the old ways of doing things have collided with such modern problems as drug-smuggling, illegal immigration, disorganized crime, and crippling government regulations. This is a timely look at an industrial city in an increasingly digital world.
--Larry Cox, THE TUCSON CITIZEN

What happens in a great port when it runs to ruin? Author and mariner Rory Nugent lived in New Bedford, Massachusetts for years, and his portrait of the waterfront and its hard-bitten, hard-luck habitues, most of Portuguese descent, is unforgettable. He tells their story in their own voices, in a vivid patois of English words and Portuguese sentence structure that is likely to die with the port itself as the oceans empty of fish. The book is full of commercial fishing lore, the customs of the sea, and characters who are more than colorful. It celebrates self-reliant individualism among a dying breed.
--NATIONAL GEOGRAPHIC ADVENTURE MAGAZINE

"This is his zany elegy for a tough town and a vanished America. As oner old-timer tells him "Fishermen are on the wrong side of tomorrow, same as mill workers used to be." Soon corporate fleets will swamp the remaining independent boats. Nugent laments this fact without romanticizing New Bedford...Crime (organized, disorganized, and corporate), drugs (you name it), smuggling, superstition, and the sea, always the sea: Nugent riffs on all tehse, conveying the restless rhythms and nervy dialect of the place. Finally, he does what any writer worth his salt should do; he makes us think about this rusty town--about all the rusty towns--that we speed past on the highway.
--BARNES & NOBLE FEATURED REVIEW....B&N PICK FOR ITS LIST OF BEST BOOKS OF THE YEAR

Nugent has been hanging out at the gritty New Bedford docks, off and on, since 1988, and offers a hyper-focused portrait of men caught in the economic dregs...Nugent channels their voices--raspy, salty, desperate--into a fascinating jeremiad, the last will and testament of an iconic way of life.
--MEN'S JOURNAL MAGAZINE

Wandering the "dreary streets" of the New Bedford, Mass., waterfront in search of lodging, Ishmael, in MOBY DICK, wonders if he hasn't stumbled upon the remains of Gomorrah. According to Rory Nugent's DOWN AT THE DOCKS, there is still plenty of sin and smuggling in the old whaling town, but a modern Pequod might never set sail unless Capt. Ahab donned a corporate straitjacket and filled out paperwork thicker than Herman Melville's novel.In six discrete profiles, Mr. Nugent offers a movingly profane lament for a "threatened species": the independent fishermen of New Bedford.
--Bill Kauffman, THE WALL STREET JOURNAL
The town itself is perhaps the dearest to live in, in all New England--Herman Melville on New Bedford, Massachusetts. Alas, New Bedford has fallen far since Melville was charmed by its quaint architecture and sunny prosperity in the early 1850s. Battered by adverse economic and social forces for decades, the city stands as one of the last working-class bastions on the Atlantic seaboard, a rugged, tough-minded fishing burg struggling to stay true to its lights..Nugent chooses to highlight New Bedford's bleak fortunes through a series of character studies, with enough facts and figures thrown in to provide requisite context. To his credit, Nugent is non-judgmental about these people's none-too-tidy lives...He refrains from quoting them directly, but his prose often takes on their accents and verbal tics, which gives his narrative a salty and exotic flavor. Nugent is just as good in his descriptions of the grimy streets, wharves, and warehouses that cluster near the tide line. And he is a poet when it comes to boats themselves...Nugent does something very useful in this broad-shouldered book. He and his gutsy informants powerfully remind the reader that the innovation, faith, and bone-wracking work for steady pay that defined New Bedford and, indeed, this nation are very much endangered. And the leavings aren't pretty.--John Sledge, PRESS-REGISTER, Mobile, Al.
Many characters in Rory Nugent's book about the New Bedford waterfront are so idiosyncratic and colorful that they're almost not believeable. But DOWN AT THE DOCKS, Nugent's third book, is so rich with the real details of the gritty history of the Whaling City that you know he's telling it straight...As one who spent part of the 1980s living and working in New Bedford, I found Nugent's knowledge of the city and some of its denizens recounted in DOWN AT THE DOCKS to be dead on, finest kind..Richard Lodge, GATEHOUSE NEWSPAPERS AND NEWS SERVICE